BLACK FRIDAY WEEKEND SALE 2018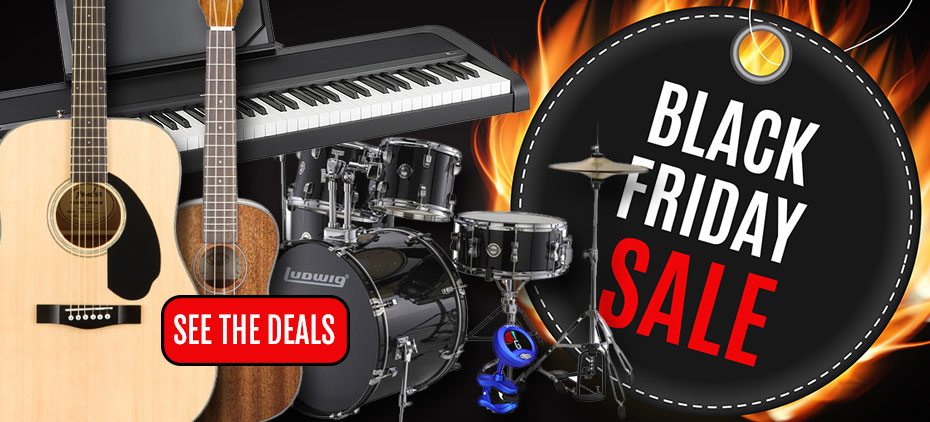 Join us Black Friday weekend for our biggest sale of the year! We'll be open extended hours 9AM – 9PM Friday and Saturday, 10AM - 7PM on Sunday. Shop early for the best deals!
In addition to the best deals of the year on gear, all purchases made Black Friday Weekend qualify for a chance to win a Martin HD-28 courtesy of the Manchester Music Mill (one entry per person from purchases made between 11/23 through 11/26).
The deals for Black Friday will be our deepest discounts of the year. Fender Acoustic Electric normally $199 will be on sale for $99, Snark Tuners for $10, Ukulele's as low as $25, Korg Digital Pianos as low as $299. Buy a complete Ludwig Drum set for $329 and receive a $30 gift certificate. Deals on amplifiers from beginner to pro level amps. We have huge discounts on Breedlove, Guild, and Yamaha B stocks. There will be wholesale cost deals throughout the store on brands including Taylor, Gibson, Epiphone, and instant rebates on select Martin acoustics!
We welcome trades, and accept all of our competitor's coupons. We love our customers and promise the best deal with the best service every time.
Manchester Music Mill easily has the largest selection of new and used instruments on hand anywhere in New Hampshire. So there will be a lot of great gear to choose from at great prices!
Don't forget that The Music Mill has a full service tech shop, offers rental and multiple financing options with 0% interest. Special financing offers can't be combined with the sale.
ONLINE DEALS!!!
15% off ALL used gear on our website for Black Friday weekend. Use coupon code "
BLACKFRIDAY2018" at checkout.
15% select Earthquaker Devices
20% off Walrus Audio pedals starting Nov. 22nd until the Nov. 27th
15% off select Keeley Electronics from the Nov. 23rd until Nov. 27th
15% off select Chase Bliss JHS, Wampler, Friedman pedals in effect now until December 4th